<![if !vml]>
<![endif]>

Please read our Safety Page

<![if !mso]>

Airport information

E45 on Wikipedia
New Frequencies
Pine Mountain Lake Airport (E45) 122.900 MHz
Columbia Airport (O22) 122.975 MHz
Columbia AWOS-3 (15 nm NW): 124.65 MHz (209-536-9384)
IFR Clearence
To get an IFR clearance on the ground or to close a flight plan call (916) 366 4042 or (916) 361 0516. Norcal Approach is reachable in flight over E45 at 123.85. Oakland Center frequency is 121.25.

<![if !mso]> <![endif]>
Please avoid overflying the Lake and the Golf Course
Notice to all the pilots: Please avoid flight over the Lake and the Golf Course. These are noise-sensitive areas. The airport has a right traffic pattern for runway 27 and a left traffic pattern for runway 9, to keep the traffic away from the lake and the golf course. Please comply with the established traffic patterns. Departures over the Lake & Golf Course are Discouraged. Arrivals over the Lake and Golf Course should be at least 500' above pattern altitude with reduced power settings.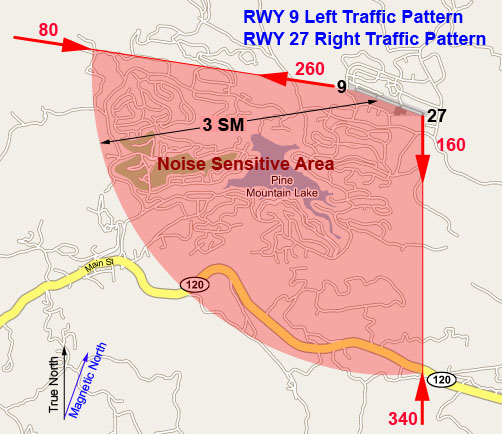 Acceptable procedures to be used at Nontowered Airports are listed at:
http://www.aopa.org/asf/publications/sa08.pdf

Safety always supersedes noise abatement and
the pilot in command always has the final authority (FAR 91.3).
Please read our Safety Page

Other Airport Information
Groveland - Pine Mountain Lake
FAA Identifier: E45 (formerly Q68)
Lat/Long: 37-51.70N / 120-10.67W
Modesto VOR (MOD) radial 052 at 39.7 SM
El Nido VOR/DME (HYP) radial 000 at 40 SM
Runway 9-27: 3625 x 50 ft
Elevation: 2930 ft.
Pattern altitude: 3930 ft. MSL
Variation: 15E
Airport is 3 miles NE of Groveland, CA 95321
CTAF: 122.90
Columbia AWOS 124.65 or (209) 536-9384
Norcal Approach 123.85
Oakland Center: 121.25
Fuel 100 LL available 24 hours self service or Mother Lode Aviation 209-962-6472
See also http://www.airnav.com/airport/E45
<![if !mso]>

PMLAA assumes no responsibility for the accuracy, completeness or appropriateness of the information provided above and shall not be liable for its content, or for any errors or interruptions in the transmission of data. PMLAA shall be under no obligation to correct any inaccuracies in this information and shall not be required to revise, amend or supplement same. This data is not, and is not intended to serve as a substitute for or in fulfillment of pilots' responsibilities under pertinent Federal Aviation Regulations to obtain current and appropriate weather and pre-flight briefings and airport information from FAA-approved sources.

<![endif]>